One of my favorite Beatles, George Harrison, really nailed it when talking about focusing on the present:
"It's being here now that's important. There's no past and there's no future. All there is ever, is the now. We can gain experience from the past, but we can't relive it; and we can hope for the future, but we don't know if there is one." 
As a music mom, this advice is so important to hear – and follow. The thoughtful Beatle's words are a timely reminder to be mindful and honor the present moment. Not only is it the right thing to do for those around us, but here are 5 ways in which living in the present greatly improves your mental health and general well-being:
You stop living life on autopilot. I hate when I feel as though I'm simply going through the motions in life. The cool part is that folks who embrace the present rarely go through the motions. Their existence is chock full of intentional living. The result is that they often experience days that are meaningful and fulfilling. Sounds nice, doesn't it?
You realize that you are so much more than your thoughts. I know that for me, it's all too easy for my thoughts to take complete control over my life. Unfortunately, it's just as easy to let those thoughts shape the way we see ourselves, the people around us, and the world at large.
When you focus on the present, all that self-harming judgment simply fades away. Rather than worrying nonstop about what you've said or done, you begin to fully understand and appreciate your thoughts.
You avoid the cycle of procrastination. Procrastination typically happens when we want things to be perfect, or we feel overwhelmed. I know for me, sometimes when the thought of completing a daunting project seems impossible, I avoid it altogether. Not good.
Being mindfully present helps you take things one step at a time. Before you know it, you've put a dent in that seemingly insurmountable task and you feel proud because of it.
A mindful approach to living helps create healthy boundaries. Being present lets you set time and energy boundaries. This frees you from wasting valuable time worrying about the past and future. All of us experience troubles at some point in life, but mindful people construct healthy boundaries that keep these negative things from ruining the here and now.
Embracing the present is so incredibly good for your psychological health. Learning how to live in the present does wonders for your psychological health. Psychology Today sums it up perfectly:
"Mindful people are happier, more exuberant, more empathetic, and more secure. They have higher self-esteem and are more accepting of their own weaknesses. Anchoring awareness in the here and now reduces depression, binge eating, and attention problems."
Living in the present is often a challenge, but the mental and emotional benefits described above make it so worth it.
You know it, and I know it: The need for motherly work-life balance is more important than ever. It seems as though moms like us have more on our plates now than ever before, so it's truly necessary to make sure we have a good grip on the following: what we do, how we do it, and when we choose to do it.
And since nobody has yet responded to my request to add a few more hours to the day, we need to acknowledge that now is the time to finally make that work-life balance happen. The good news? It's totally doable.
But before we look at some simple steps for making it happen, let's take a peek at just some of the benefits of a more balanced life:
BENEFIT #1: Work-life balance inevitably improves your mental health, making you capable of clear thought.
BENEFIT #2: Work-life balance allows you the time to improve your physical health.
BENEFIT #3: A truly balanced lifestyle lets you be fully present wherever you are, be it at home, at work, or with friends and family.
BENEFIT #4: Work-life balance makes your relationships with your family, friends, and co-workers healthier and generally more positive.
BENEFIT #5: Work-life balance helps free up some of that creativity that gets stifled when we're super stressed.
I'm pretty sure these all sound like amazing benefits of a better work-life balance. If you're itching to make these things happen in your life, here are 5 steps to take:
STEP #1: Rid yourself of all those time-consuming things that you really can do without. You don't need them, and you really don't need to worry about finding the time to do them.
STEP #2: Build strong boundaries that keep all those unimportant items away. In other words, come up with certain criteria that allow you to cross some items off your to-do list.
STEP #3: Put time into properly prioritizing your daily and weekly plans, and be sure to write out a plan for the week. Every successful person has some sort of a plan, so here's your chance to create yours. Remember: If you don't schedule certain things to happen, chances are they never will.
STEP #4: Put honest effort into being more present in all facets of your life. When you consciously decide to do something like be more present, you tend to increase the likelihood you'll do it. Oh, and having a buddy who can hold you accountable helps a lot, too.
STEP #5: Creativity is therapeutic. It's also the kind of thing we sometimes need to make space for. Build into your schedule specific times when you can work on your music, art, poetry, creative writing – whatever. Like the other things in your life, if you don't deliberately map out this time, it likely won't happen.
So there you have it. I'm convinced that taking the 5 steps described above will help unlock the 5 benefits detailed above. A happier, healthier, and more productive life is waiting for all of us. All we need to do is determine that we're going to make it happen.
Enjoy the balance!
This Wednesday, August 11 is National Son and Daughter Day. To celebrate, I thought it'd be nice to share with you specific phrases you can say that'll show your son or daughter just how much you appreciate them.
The best part? Kids who are appreciated are extremely likely to repeat their behaviors. Not only that, but if they receive these kind words, they're more likely to show appreciation towards others.
Here are some phrases my friends and I have said to our kids. Feel free to make them your own so they're relevant to your son or daughter.
1. I love how enthusiastically you greet your Dad when he gets home from work. It makes him feel special.
2. Thanks for giving me a kiss before I leave for work each morning.
3. I appreciate you doing all your chores without me having to ask you.
4. Thanks for listening to me when I'm talking to you.
5. You made your brother's day by playing with him when your friends were here.
6. Thanks for remembering that I love the color red.
7. I enjoy baking cookies with you. We make a great team.
8. I noticed how careful you were while emptying the dishwasher. Thanks!
9. Thanks for waiting for dinner to eat. Snacks fill you up, so you made a wise decision.
10. Thanks for putting the caps back on all the markers.
11. I love taking walks with you.
12. I enjoy watching movies with you. Thank you for choosing something we both enjoy.
13. You have such a kind heart. Thanks for drawing me that picture for Mother's Day.
14. Thanks for taking off your muddy boots before you walked on our new rug. It shows that you respect our home.
15. You look great! Thank for choosing your clothes and getting dressed.
16. Thanks for putting all those flowers in a vase. They look beautiful on the kitchen table.
17. Thanks for being quiet and reading to yourself this morning while the rest of us were still sleeping.
18. Thanks for being so gentle when we were working in the garden this morning.
19. I love it when you rub my hair when I have a headache. It's sooo sweet – and you help make me feel better.
20. I appreciate how carefully you cared for your little brother while I was making dinner.
21. It meant a lot to me to see you teaching your brother how to skateboard. He's lucky to have you.
22. Thank you for listening to me.
23. I appreciate how much you enjoy writing songs. You are definitely a talented kid.
24. I love how curious you are.
25. Your jokes are so funny. Thanks for sharing them with me.
Everyone is focused on Tokyo as the world's greatest athletes compete in the 2020 Summer Games. Whether it's for our parenting, our music career, or our general approach to life, here are 8 important lessons we can learn from these world-class athletes:.
They are coachable individuals who continually learn. Each Olympic athlete excels at their game because they spend time practicing, watching replays of their performance, and strategizing with their coaches. If you truly want to be the best at something, you'll have to commit yourself to it for life.
They repeatedly overcome obstacles big and small. When most people encounter an obstacle, they try to find a way out. Olympic athletes push forward when this happens, intent on learning all they can from the challenge. They know facing adversity is part of being successful. In other words, they embrace it.
They think big. Really, really big. You might be surprised by how many folks spend their time thinking about just getting by. It's called selling yourself short, and way too many people do it. If you ask every athlete in Tokyo how they think they'll do, they all will say they expect to win the gold. They believe 100% in their abilities, and there's absolutely nothing anyone could say to change their mind.
They are motivated by SMART goals that they've set for themselves. Setting goals helps you to navigate the way to your set destination. If you live aimlessly every day without aiming for a particular outcome, you'll have an unfulfilling life. George T. Doran coined the term SMART goals in 1981. It's been used by champion athletes ever since. SMART stands for specific, measurable, achievable, relevant, and time-based.
They practice the fine art of visualization. Visualization involves setting goals and then creating a mental image of the steps required in reaching them. Olympic Gold medalist Lindsey Vonn, one of the greatest female skiers in U.S. history, credits visualization for her success in the Winter Olympics. At the start of every race, you can see her closing her eyes and moving her arms and legs as she pictures every intricate movement. In short, visualization works.
They hang out with people who think like they do. Olympic athletes spend so much time together because positive consciousness is contagious. Your level of success in any area of your life is most likely equivalent to that of the people you spend the most time with. If you want to be better at something, get around people who push you towards excellence.
They compartmentalize their emotions. Olympic athletes have the unique ability to put aside anything else going on at that very moment, and focus only on the task in front of them: winning the gold.
They know very good is never good enough. For the average person, being very good is something to be proud of. For Olympians, it's an insult. Don't settle for mediocrity. Why just be happy with the bronze or silver when you can go for the gold?
If you're like most moms right about now, you're absolutely itching to get those kids outside. And since summer is here and the weather is oh so fine, the beach is probably one of your favorite destinations. I'm right there with you.
If you're an expert beach broad, however, you know that a fun beach outing can quickly turn bad. Just one runaway wave or angry sea creature can turn your amazing day in the sun into a living hell.
While we've all had a bad beach day that ends with our parts feeling a bit too sun-roasted, serious injuries are much more common than we think. On that note, here are 7 tips to help keep you and your fellow beach bums safe:
1. Learn what warning flags mean, and then look out for them. Different beaches have different colored flags with specific assigned meanings. It's a good idea to ask the lifeguard if you're not sure what the flags signify. Use caution. And remember: Not all beaches are made for swimming, so know what's what before you set foot on the sand.
2. Stay updated on the weather forecast. Lightning + large bodies of water = trouble. Check the weather report before heading to the beach. Save the beach for another day if there's lightning in the forecast. If you're already there, wait at least 30 minutes after the last thunder boom before heading back out to the sand.
3. Make sure everyone in your crew knows how to swim. Swimming skills do matter: Giving a one-year-old child four formal swimming lessons can reduce the risk of drowning by as much as 88 percent. Our rule is simple: If you can't at least do the doggie paddle, stay away from the water. And if you're at the beach with a child or adult who can't swim, make sure they wear a life jacket.
4. Pick a swimming spot that's close to a lifeguard. Lifeguards are there for a reason. They have the ability to see, hear, and sense things that the average beachgoer does not. Take note of where they're stationed on the beach and stay relatively close to them when swimming. Most drownings occur at unguarded sites, so being close to a lifeguard greatly reduces your chance of that happening.
5. Stay aware of rip currents. When waves don't break evenly along the shore, there can be a circulation in the water that produces a rip current. These notorious currents are the biggest threat to beachgoers, capable of dragging even the strongest swimmer far from the shore. If you do get pulled out, stay calm. You need to save your energy. You can do this by letting the current carry you for a while. Once you've calmed down, start swimming horizontal to the shore until you've removed yourself from the current. Then return to the shore by swimming diagonally.
6. Know what it usually looks like when a swimmer is in trouble. Here's a fact that all beachgoers need to digest: Drowning is the number one cause of unintentional deaths in the world. While we assume that swimmers in distress will be frantically waving their hands and yelling for dear life, this isn't always the case. In fact, drowning is often eerily quiet. Keep an eye out for people who have their heads low in the water or tilted back with their mouth open, who have their eyes closed, or who are trying to swim with little to no success.
7. Respect the waves before they force you to. Swimmers who dismiss the power of the ocean's waves do so at their own risk. They are so much more powerful than non-beach bums realize. Injuries resulting from strong waves can include sprains, broken collarbones, and dislocated shoulders. On the more serious side, swimmers can experience blunt organ trauma and paralysis through severe spinal injuries. Oh, and look out for shore breaks. These are those violent waves that break directly on shore, as opposed to gently rolling in from further offshore. These downright frightening waves can cause serious neck and spinal injuries.
We are lucky to have beaches to run to when all other summer activities seem a bit blah. The beach is a treasure trove of fun, relaxation, and adventure, all waiting for you and your favorite folks. And if you follow the 7 tips described above, you'll be sure to keep you and them safe and sound until sweater weather returns.
Memorial Day is a chance to remember those who lost their lives serving our country. Although you might be enjoying a backyard barbecue or heading out on a road trip with your family, make sure you also take time to remember what Memorial Day weekend is really about. In my humble opinion, the genre of country music has a special knack for memorializing our fallen heroes.
With that in mind, I put together this patriotic playlist of Memorial Day songs about America. I hope you'll blast these songs for the purpose of remembering the meaning of the holiday, as well as those who made the ultimate sacrifice.
"50,000 Names Carved In The Wall" by George Jones
"Color Me America" by Dolly Parton
"God Bless America Again" by Loretta Lynn and Conway Twitty
"An American Heart" by Faith Hill
"Some Gave All" by Billy Ray Cyrus
"American Soldier" by Toby Keith
"Arlington" by Trace Adkins
"If You're Reading This" by Tim McGraw
"More Than a Name on a Wall" by The Statler Brothers
"Soldier's Last Letter" by Merle Haggard
Are there any songs you think should be on my list? If so, leave a comment with a link to it.
Happy Memorial Day!
Mother's Day often reminds us how many sons and daughters have a tough time expressing their love and appreciation for Mom. Luckily, some of the most talented songwriters in the world have found a way to capture in their songs the way we all feel about our mothers.
These 15 Mother's Day songs will make for the perfect playlist as you hang out with Mom during her special day. There's some rock, some country, and more than enough pop, so there's a little bit of something here for everyone.
Enjoy, and may each of you moms have the best Mother's Day yet!
1. "Superwoman" by Alicia Keys
2. "Mama's Kitchen" by CeCe Winans
3. "Mother Like Mine" by The Band Perry
4. "Don't Forget to Remember Me" by Carrie Underwood
5. "Mom" by Garth Brooks
6. "Angels" by Randy Travis
7. "The Hand That Rocks the Cradle" by Glen Campbell and Steve Wariner
8. "Mother" by Sugarland
9. "The Baby" by Blake Shelton
10. "Coat of Many Colors" by Dolly Parton
11. "The Best Day" by Taylor Swift
12. "The Wish" by Bruce Springsteen
13. "You Can't Lose Me" by Faith Hill
14. "The Sweetest Gift" by Linda Ronstadt ft. Emmylou Harris
15. "Where You Lead" by Carole King
The long, cold winter is finally over. And now that the highly anticipated spring sunshine has begun to warm your body, it's time to also show some love to your mind and spirit.
In other words, now is the perfect time for a brand new soul start.
These four self-care tips are guaranteed to help you accomplish that spring cleaning for the soul you've been waiting for.
Spend as much time outdoors as you can.
After enduring the winter and a pandemic-related quarantine, your body is desperate for some exercise and clean, crisp air. Give it what it so desperately wants (and needs) by getting out in the sunshine.
I recommend getting reacquainted with the outdoors by going for walks as often as you can. This will get your blood flowing throughout your body and begin the process of clearing out your mind.
Try walking in areas where you can be fully surrounded by nature. As you witness firsthand the changes you see happening in nature, you'll be inspired to begin making changes of your own.
Purify your diet by starting fresh food habits.
Winters are known for encouraging us to eat some of the heavier, ummm, comfort foods. That's why springtime is the perfect time to cleanse your body and mind by developing healthier eating habits.
You can begin this process by literally removing everything from your fridge and ditching the foods that you feel guilty eating. Give yourself the type of shiny clean and organized collection of food that actually sets you up for success. Remember: Food is meant to nourish our bodies, not cater to every craving we have.
I suggest you befriend your local farmer's market and begin chowing down on your favorite fruits and vegetables. One worthwhile goal should be to eat as many brightly colored foods as you can. If your food repertoire starts looking like a rainbow, you know you're on the right path.
Drink plenty of water to keep your system purified, and you'll soon find that you're feeling as good as you look.
Declutter your home.
A messy and cluttered home often leads to a messy and cluttered life. You may not even realize it, but living in a chaotic mess can leave you feeling anxious, irritable, and unsatisfied. Embrace the new energy of spring by ditching all the items in your house that no longer benefit you.
You can begin this decluttering process by sifting through your cabinets, drawers, closets, and desks. Try to digitize as many important documents as you can, and then organize them properly.
Removing the items you simply don't need will take time, but you'll soon feel a gigantic weight removed from your shoulders. That alone will make the entire process worth it.
Rethink and reevaluate your priorities.
It is ridiculously easy nowadays for our priorities to get messed up. Spring is the ideal time to fix this.
One way to get started is by reconnecting with the people who mean the most to you. Never forget that the most important relationships require time and attention. Now is the best time to begin that process.
Spring is also a great time to reevaluate with whom you've been spending your time. Allow yourself to be completely honest as you critique your life: Are you involved in any toxic relationships? Are there people in your life that are simply no good for you? Do you improve the lives of everyone in your life?
If your answers to these questions make you start thinking that it's time for a change, act on that. Trust your instincts.
In addition to the people in your life, spring is the right time to reassess the things that keep you busy. Allow yourself to get rid of the activities that no longer foster your joy and creativity. Decide to embrace those that do. Your time is valuable, so start being intentional with how you use it.
Closing thoughts
We often focus so much on our physical health. And while that is very important, a healthy soul is just as meaningful.
If you've been feeling like you need a spring cleaning of your soul, you're not alone. Winter can get all of us into some pretty unhealthy habits.
But the good news is that the warm, soothing sunshine of spring brings with it the perfect opportunity to get rid of the old, and welcome in the new. The four tips described above are tried and true ways to begin the process of healing, renewing, and reenergizing your soul.
Good luck!
I have encountered numerous people who are currently living out their dream. They're content and filled with optimism. I've also met a bunch of folks who have either given up on that dream or currently lack the energy to pursue it. They're considerably less satisfied and positive.
Very often these people suffer from being unable to deal with the same debilitating and oftentimes soul-sucking issue: time management. 
As a music mom, it's oh so easy to become overwhelmed by your many responsibilities. You're busier than ever and there are seemingly more distractions than you could imagine. But if you're intent on keeping your music dream alive (and I know you are), you need to figure out how to manage your time in a way that is healthy and productive.
My experience as a musician and a mother has proven to me that the following 4 tips can help you pursue your musical aspirations, despite the craziness of life.
1. Prioritize the things you need to focus on and separate them from the things that can wait.
One thing a successful music mom does is keep in mind that not all tasks are equal. It's up to you to prevent the unnecessary stress that comes from making all your tasks equally important. Pick and choose the ones that are truly worth your immediate time and attention, and save the rest for another time.
Doing this will leave you feeling refreshed as you set out to conquer the things that tend to consume your energy.
2. Plan out your days, nights, and weeks.
Once you know which items in your life should be added to the top of your priority list, it's absolutely essential that you plan your days, evenings, and weeks. Mapping out a plan for getting things done isn't just something to do for fun; it's the solution to the problem of time management.
Let's face it: The most successful people in music, parenting, and life in general rarely gain their success accidentally. They're purposeful in all they do, including their scheduling of life's events.
3. Carve out specific time to focus on your music.
Hobbies are nice, but they rarely pay the bills. If you're serious about music being a big part of life, you're going to need to etch out a time when you can focus solely on it. Be it songwriting, rehearsing, or performing live, it's a heckuva lot more difficult to make your musical activities happen if you wait to try to squeeze them into a random dull moment.
As you already know, those moments pretty much don't happen. Instead, book for yourself specific time to do your music. This is an essential step in making music a major part of your life.
4. Commit to your music, just like you've committed to all the other things you value.
If the first three tips sound pretty doable, but you're afraid of actually sticking with the plan, that's okay. You're not alone. Plenty of folks start out with the best intentions, only to get distracted by all the other things in life. Or worse yet, they fall victim to those nasty old procrastinating ways.
Simply put, there's a ton of resistance in our daily lives to making music (or any creative endeavor) actually happen. So that's why you need to commit to making it happen. Having someone who can hold you accountable is a great way to ensure you do this.
CLOSING THOUGHTS
You've read this far because your music is obviously important to you. If you've up to this point struggled to make time for it due to the other aspects of motherhood and life, there's still time to fix things. By following the 4 tips described above, you'll be well on your way to giving your music the time, energy, and attention it deserves.
You, your music, and everyone around you will be so much better for it.
Remember when we were kids and it seemed like everything around us encouraged our creativity? I miss those days. Especially for our kids.
There now seems to be so many obstacles to our kids developing and then expressing their creativity. From helicopter parenting to non-stop screen time, our kids are most definitely a creatively repressed generation.
The good news is that they don't have to be. There are specific things we can do to help grow their creative impulses. Here are 5 unique ways you can encourage your child's creativity.
Stop hovering and let your kids create on their own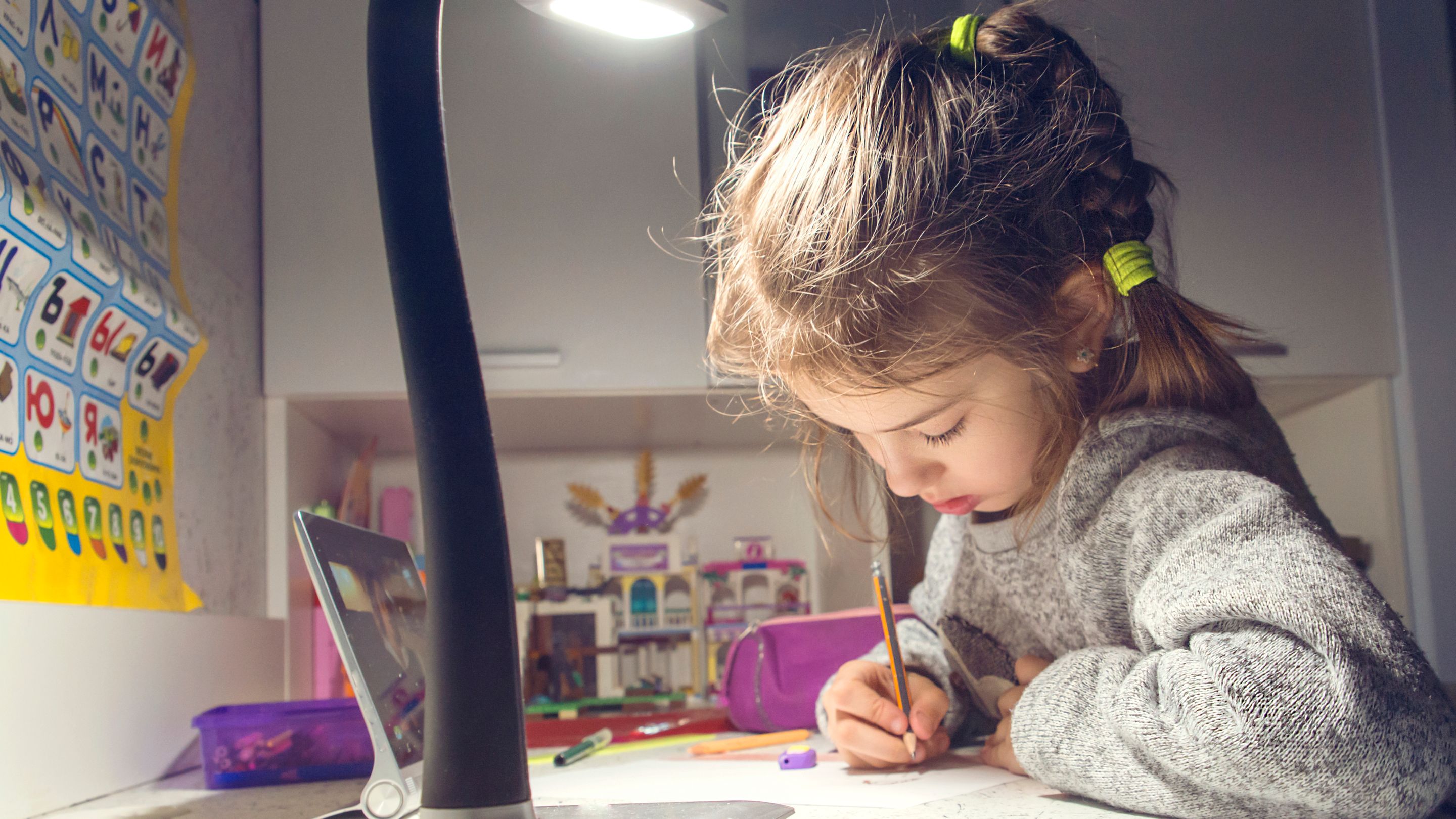 Have you ever left your child in a room and then returned to find that they created something amazing on their own? Well, that's a good thing, and you should let it happen more often.
The reality is that they don't necessarily need you right there with them in order to get in touch with their creative side. In fact, letting them discover it on their own will make them more creative and more independent.
That's a win-win, for sure.
Allow kids to have their messy moments
I know. This one feels as though it's diametrically opposed to our natural instincts to keep our house clean. And our kids. But there is something incredibly freeing that comes from not obsessing over the mess our kids are making. After all, don't we have enough to stress about already?
So go ahead, let your kids make a mess. You might discover that being free from the restraints of your rigid neatness standards opens a whole new world of creativity within your child. You might even watch with pride and joy as that big ol' mess transforms into something beautiful. Maybe.
Trade screens for instruments and art supplies
"Time keeps on slipping, slipping, into the future…"
You know that one all too well. So if it's true that the time we have with our kids as young ones is limited, we should try to make the most out of it. And as far as I can tell, sitting in front of a screen is not the way to do that.
Instead of letting our kids' creativity turn to mush by allowing them too much screen time, let's give them the tools that'll encourage their creative tendencies. Shower them with musical instruments, paintbrushes, and notepads. You'll immediately see their creative juices begin to flow.
Give your kids a camera and let them go crazy with it
Curious how your child sees the world? So am I.
There's no better way to find out than by giving them a camera and letting them shoot away. I guarantee you that they'll provide a fresh perspective on a world that we as adults often take for granted.
Ask open-ended questions, and do it often
We often think of creativity as being expressed with a paintbrush or a musical instrument. Sometimes, though, our kids thrive creatively through their thought process. If this sounds like your kid, it's time to unleash his or her creativity to the same extent you would if they were an aspiring painter or pianist. One surefire way to do this is by asking them open-ended questions.
Open-ended questions are perfect for getting the wheels spinning. Some effective conversation starters for kids include:
"What would you invent to make the world a better place?", "Would you rather do this or that?", and "What if…?"
Closing thoughts
What are some unique ways by which you encourage creativity within your kids? Share your suggestions in the comments.
Thanks for reading!
Rearranged schedules. Forbidden favorite activities. Bored and restless kids. Yep, there's quite a bit for moms to be stressed about nowadays.
Fortunately, you don't have to give in to that stress. In fact, you don't even have to deal with it in the first place.
That's right.
By following the 5 tips described below, you can avoid the exhausting, soul-crushing, and debilitating stress of motherhood.
Ready for less stress and better mental and physical health?
1. Know when you're getting stressed – and understand why it's happening.
This might sound like a big "duh," but it's not. Too often moms ignore the warning signs our bodies are giving us, the red flags that should alert us to increasing stress.
It might be that headache that won't go away.
Or maybe it's those sore shoulders that you can't seem to relax.
Perhaps it's those dark and dreary thoughts that linger like a dense fog.
Whatever it is, your body is quite good at telling you when you're getting stressed. And if you want to live a less stressful life, you'd be very wise to listen to it.
2. Focus on fewer tasks each day.
I know we all think we our mom trophy will be bigger and more beautiful if we can accomplish as much as we can in one day. But that's a generally unhealthy approach to life.
Sure, there are a certain number of must-do tasks that we must cross off the list. But sometimes it's easy to think that the more we do each day, the better we are as mothers. This couldn't be further from the truth.
The ideal way to view it is to give fewer things more of our attention. This is in sharp contrast to the modern trend of spreading one's self too thin.
The result is more focus, more relaxation, and more energy for the tasks we take on.
Turns out less really is more.
3. Take a break when you need one.
I know that taking time for ourselves is considered taboo for us moms. But I don't care. We need to do it. The more, the better.
Any time I start to feel guilty about looking after myself instead of everyone else, I stop myself and remember this important truth: by taking better care of myself, I am by extension taking better care of everyone else.
Your family and friends need you to be energized and fully present whenever you're around. The only way you can do that is by taking a break when you need one.
So go for it. When you start to feel the stress coming on, that is the time to hunt down some good old-fashioned relaxation. You will be so glad you did – and so will everyone else.
4. Exercise as often as you can.
Kickboxing is my go-to form of exercise, and honestly, I can't imagine life without it. I'm able to kickstart (pun intended) all those wonderful endorphins that keep me looking on the brighter side of life.
I highly recommend finding your preferred form of exercise, and then sticking with a routine schedule for doing it. It's an incredibly effective way to prevent stress, and if the stress has already begun, it can help keep it from getting worse.
Exercise really does do wonders for your physical and mental state. If you want less stress in your life, add more exercise. I promise you won't regret it.
5. Find your personal support group.
None of us are meant to do this whole mother thing on our own. Yet we keep trying to juggle everything life throws at us on our own. As if we will get some sort of extra reward for putting our head down and fighting through life without involving other people.
If this sounds like you, please hear this: refusing to seek your own personal support group will inevitably do much more harm than good.
That's right. You are actively hurting yourself (and the folks you care about) when you don't pursue the comfort of like-minded souls. You might pull it off for now, but you will eventually be worse off because you don't have someone to support you.
I urge you to find your community. Build relationships with the people who know what you're going through. Find comfort in their company. Be the helping hand in their time of need, and don't be afraid to ask for their support when you're struggling.
Again, we are meant to get through this long and winding road with other people. If you don't have them yet, today's the day to make it happen.
Closing thoughts
Stress is often considered just another part of life, but I disagree.
While there will always be things in life that have the potential to cause stress, that doesn't mean you have to accept all those nasty, negative physical, mental, and emotional effects of stress.
You can overcome stress. Heck, I'm 100% convinced that following the 5 tips I described above will enable you to actually avoid stress all together.
Sounds good, doesn't it?
I've always found it quite fitting that we honor Martin Luther King Jr. just a few weeks after we kick off a new year. The reason I say that is that Dr. King gave us one of those inspiring quotes that serves as the perfect motivator to make the positive changes we know we need to make:
"We are now faced with the fact that tomorrow is today. We are confronted with the fierce urgency of now. In this unfolding conundrum of life and history, there "is" such a thing as being too late. This is no time for apathy or complacency. This is a time for vigorous and positive action."
Amen.
While it might be tempting to apply Dr. King's concept of the "fierce urgency of now" to relatively less important items like making those lifestyle changes we know we need to make (healthier eating, fixing relationships), I'm convinced that the quote can and should be used to push us towards bigger and better things.
Things like demanding fair and equal treatment for all people.
And calling out institutions and individuals that keep people and groups from moving forward.
And doing everything in our power to spread the peace, love, and understanding we want to see in the world.
There are so many ways by which we can use Dr. King's quote (as well as his lifelong example) to positively change the world in which we live. Even more important than the number of ways we can do it, though, is the desperation we should feel as we try to make these things happen.
After all, it's so incredibly easy to become distracted by the unimportant things in life, the petty and irrelevant things that cause us to lose sight of the big picture.
But for those of us who want to live in the type of world Dr. King dreamed of, that simply cannot be an option. We must stay focused on the task at hand. Day in and day out. That type of laser-beam focus is one of the things I admire most about Dr. King. He was absolutely tenacious in his pursuit of justice.
I hope his focus, his words, and his life inspire you to also commit to making this world a better place. Starting today, of course.
Happy MLK Day!